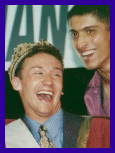 The Association of the Homosexual People Organizations (SOHO) in the Czech Republic was founded in Brno on 24th June 1990. On the occasion of the tenth anniversary of the gay movement in the Czech Republic a celebration will take place in Brno between 19th and 25th June 2000.
The celebration will include a showing of films dealing with gay themes, a theatre performance and exhibitions as well as seminars.
The celebration will reach a peak during the final night, on 24th June, when the Gay Man České republiky 2000 contest will be held. The contest, in which the most charming Czech gay man is chosen, is organized every year by SOHO in the Czech Republic and 2000 is going to be the ninth year of this contest.
The civic association STUD Brno was charged with the organizing of the whole celebration. STUD Brno has vast experience because it organized the Gay Man České republiky contest two years ago.